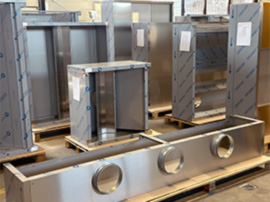 ABOUT US
Nuventas has been established to serve the commercial kitchen ventilation market in Europe and beyond. We develop, produce and market commercial exhaust hoods and related equipment. All of our products are marketed through a professional network of contractors and distributors worldwide. With a solid know-how and experience, we provide an all-round assistance to our partners, helping them to excel in the things they do best – planning, surveying, installation and service.
The focus on research and development of our exhaust hood range allows us to employ latest technologies and provide credible technical support. Our in-house designing department is utilizing the latest 3D CAD software which empowers us to efficiently develop and produce tailor made solutions.
Our exhaust hoods are exclusively produced in the largest and one of the most modern stainless steel commercial kitchen equipment factories in the Baltic and Scandinavian countries – Novameta. The factory has 150 employees and is capable to produce over 3000 items per month. Cutting-edge production technologies and process planning (LEAN) allows to have the highest quality standards and accurate lead times.
Conveniently located in the geographical center of Europe – Lithuania, Nuventas delivers commercial kitchen ventilation equipment in an efficient and timely manner.